Your Trusted Manufacturerof sustainable Composite Decking
Since 2007, HOHEcotech has been dedicated to the manufacturing of environmentally friendly composite decking.
HoHEcotech employ low environmental impact manufacturing and cutting-edge omposite technology to offer aesthetically pleasing, maintenance-free, rot-resistant non-fading, non-staining, and scratch-resistant alternatives to real wood.
Hohecotech provide elegant , reliable , and sustainablebuilding solutions , making life easier and healthier
HOHEcotech: Pioneering Eco-Friendly Composite Decking
Since our inception in 2007, HOHEcotech has been at the forefront of developing environmentally friendly Composite Decking. Our proud brand utilizes materials comprising 95% recycled wood powder and HDPE. With over 50 production lines and a team of 150 skilled professionals, we manufacture over 1,500 containers annually, achieving sales exceeding $25 million. Our products are shipped to 60 countries globally, establishing close relationships with 225 clients, including over 100 active customers. We are honored to have trusted partnerships with renowned international home improvement retailers such as Lidl, Hagebau, Hornbach, Hellweg, and Globus. Committed to advancing green building materials, we strive to lead in the eco-friendly composite flooring sector.
HUASU Wood Plastic Composite Hot-sale
3D Deep Embossing Wood Grain

The wood grain is beautiful and not easy to wear

Ultra low maintenance

Super anti scratch, anti fouling and easy to clean

Longer service life

Installation of concealed fastener

Round Hollow Decking

Ultra low maintenance

Super anti scratch, anti fouling and easy to clean

Super aging resistance

Longer service life

Installation of concealed fastener

Square Hollow Decking

Has the appearance and texture of natural wood, no paint required, easy to maintain

Moisture-proof and waterproof can be used in humid environ

ments, and will not rot or deform.

Various styles are available for a variety of colors to choose from,

and you can customize your favorite colors according to your preferences..
Solid Core Protection For Almost All Environments
In almost all environments, all of our products are core protected to provide
unparalleled performance, so you can rest assured that your investment will last a lifetime.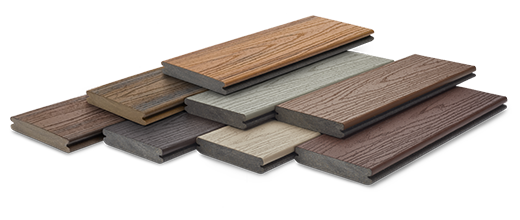 WPC Decking Has Been Designed To Look Like Lumber, What Are The Main Differences?
Why Are WPC Decking, Wall Panel, Railing, Or Fencing And Trim Products Better Than Wood?
Where Will Use WPC Products?
What Is WPC?

Wood-plastic composites (WPC) are composite materials made of wood fiber/wood flour and thermoplastic(s) (includes PE, PP, PVC etc.).Chemical additives seem practically "invisible" (except mineral fillers and pigments, if added) in the composite structure.They provide for integration of polymer and wood flour (powder) ...
What Colors Does The Composite Decking Come In?
Please fill in the form below and we will response to you within 24 hours.
Focus on the development and manufacturing of health and environmentally friendly Wood Plastic Composite products.