Durable eco-friendly wpc outdoor summer houses (water proof, UV resistance, resistance to rot and crack)
| | |
| --- | --- |
| Categories | WPC Pergola |
| Album | View larger image |
| Brand | HOH Ecotech WPC |
| Model | HL |
| Frame Finishing | Not Coated |
| Pressure Treated Wood Type | Nature |
| Frame Material | WPC |
| Surface | Sanding,Sliding,Embossing |
| Type | Summerhouses |
| Certificates | CE ROHS ASTM Intertek ISO |
| FOB port | Shanghai |
| Update Time | 2019-01-23 |
1.With CE&ISO Certificate
2.Environmental friendly
3.Safe to use for 10 yrs
4.Low maintenance
5.water-proof,UV re,durable
Durable eco-friendly wpc summer houses (water proof, UV resistance, resistance to rot and crack)
HOH Ecotech,the best partner of your happy life!
Well and High Quality Control
Prompt Delivery
Customer's Design and Logo are Welcome
Competitive Prices
In a Variety of Design
Small Order Acceptable
ODM Accepted OEM Accepted
hot sale most popular WPC decking
We can save 2.7cbm natural timber when use 1cbm of WPC materials,
it equivalents to absorbing 12.5 tones of Carbon dioxide(CO2),and releasing 4.6 tones of Qxygen(O2)
1.The contrast of WPC and Wood
Characteristics

WPC

Wood

Moisture Resistance

Waterproof

Water absorptive

Rot Resistance

Antisepsis

Rot except special treating

Split Resistance

No Cracked

Cracked by weathering effect

Distortion Resistance

Almost no Contraction/expansion

Distorting effected by chang of 

moisture and temperature

UV Resistance

High Grade UV Resistance

Easily effected by UV

Fading Resistance

Almost no

Easy to fade

Outdoor adaptability

Great

Only few of treatedowood adaptive

No need painting

No need

Need paint periodically

Durable/longevity

> 8-15 years

< 3 years

Various Configuration

Extruded via various mould

simplex

Environment Effect

Recyclable 100%

Consume woods
2.Camino WPC material
HDPE,Bio-material, Additives
3.Certificates
CE, ROHS, ISO9001, ISO14001, Intertek Test Report by ASTM
4.Surface Treatment
WG(wood Grain),DP(Dull poush),TN(Thin tooth),MM(Medium Tooth),TK(Thick Tooth)
Embossing, Sanded, Smooth, Brushed, Scratched, Grained
5.Size
160x25,150x25,150x35,150x30,149x34,147x23,146x21,146x25,145x22,140x30,140x25,140x23,140x17,138x20,135x25,100x25,100x17 and so on.
6.Color
Cedar, Copper Brown, Wood, Sandalwood, Coffee, Grey, Dark Grey 
7.Installment
Step 1:Put the keel in the bottom with the recommended 30-40cm distance
Step 2:Dig a 1.5cm-deep hole and put the nail in.
Step 3:Combine the two boards and tighten the screw.
 
8.Application
Garden, Lawn, Balcony, Corridor, Garage, patios, rooftops, pathways,basements,greenhouses,pool&SPA Surrounds, Boardwalk, Playground
Outdoor place

Main application

Decking board

Plank,walk path,bridge sidewalk(soild or hollow)

Pole material

handrail,railingfence,partition,scale board

Flower pots board

Flower pot,tree pool,trash can

Decoration board

Outside wall decoration board,sun shade,shutter

Bench slip

Rest chair,backrest slip,leisure table surface

Sign board

Sign board,indictor,billboard

Structural material

post,beem,keel(fittings available)

Integrated uses

Flower frame,gallery,gazebo,terrace,garage

Indoor place

Main application

Ceiling,interior panel,bath room board,door pocket and window casing,partition sound barrier,decorative moulding
9.Characteristics
1. Environmental friendly, 100% recycled.
2. Low maintainance
3. Easy installation
4. Temperature resistance, suitable from -29°C to +51°C
5. Long-lasting to use (10 years warranty)
6. Water-proof, moisture-proof, insect-proof
7. With wood scent, very natural feel
8. UV resistance, fade resistant durable
9. Elegant look
10. Even, dimensional stability
 Outstanding Characters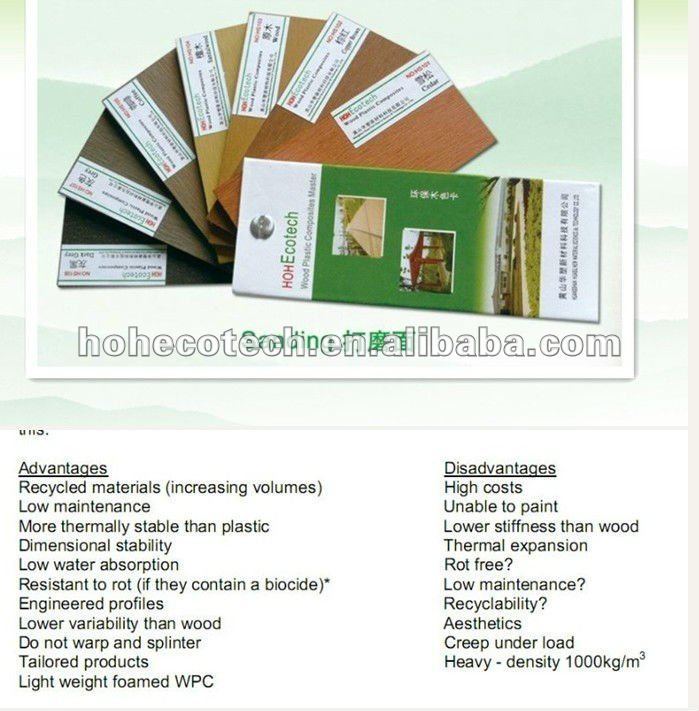 Dimension Stability 
It will not be out of shape after a long testing of 8 years and there is no crack under the test temperature between -40 to 60 ccenti grade 
Material Safety 
Low flame spread / High slip resistance / No sting of wood / Contains no toxic chemicals or preservatives / Environmental friendly / Can be recycled 100%
Good appearance, nice touch & excellent longevity
Natural feel & wood touch / Broad range of finishes and apprarance, Multicolor, and no need to painting. Its lifespan at least 8-12 years in the outdoor weather condition
Different Color available 
Kindly Reminder: There might be color difference due to computer resolution or influence of the light. If you want to confirm color exactly, we can provide actual sample for free.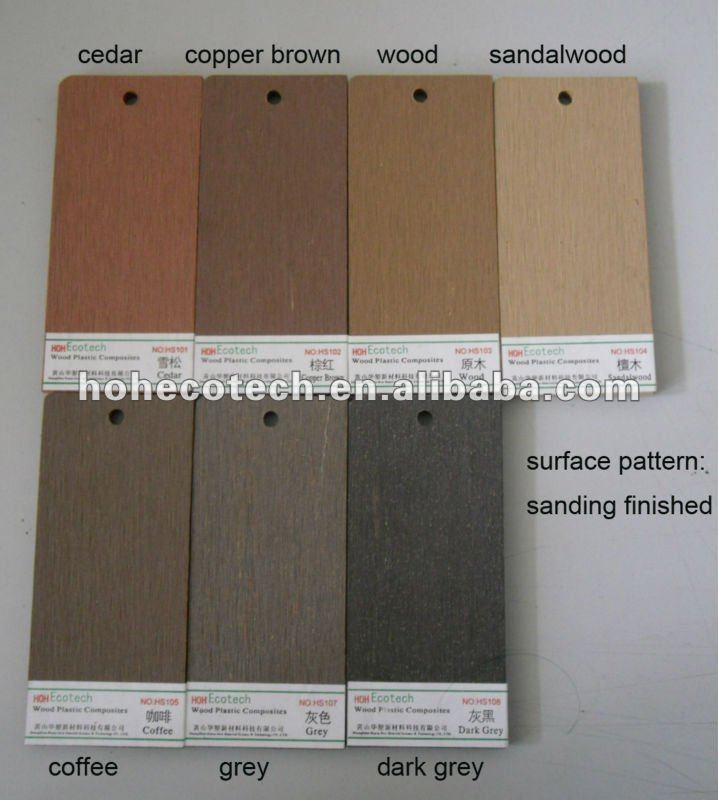 Packaging ( Can meets Clients' Special Requirements )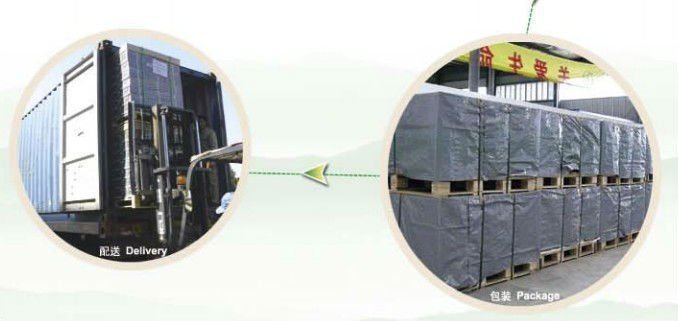 Accessories for WPC Decking Installation
Joist 
In most situations, joist, as the support of decking, are necessary for installation. If your decking are installed directly ona lumber(steel) frame and make sure the beam can offer enough support and place for fixing clips, joist can be avoid.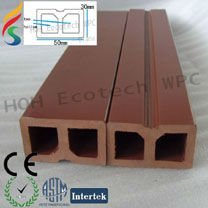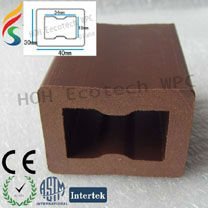 Swallow tail clip 
PE as material may offer excellent flexibility to fit thermal expansion of decking boards and aging resistance for out outdoor life. Swallow tail structure may define the gap between two board and enhance the flexibility of the clip. Gap betweentwo boards can be controlled between 5-7mm by using this clip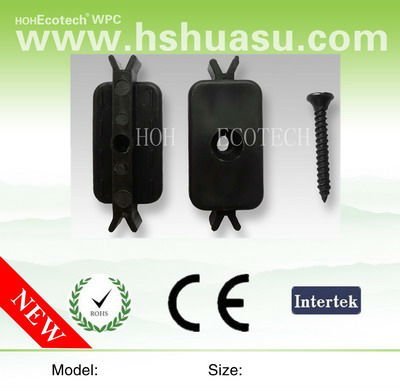 Metal Clip 
This Clip is designed for ceiling system at first, some customers who have special requirement of small gap can choose this clip as it can control the gap between to boards within 3mm so that no connection can be seen. Never rust, deformed or aging.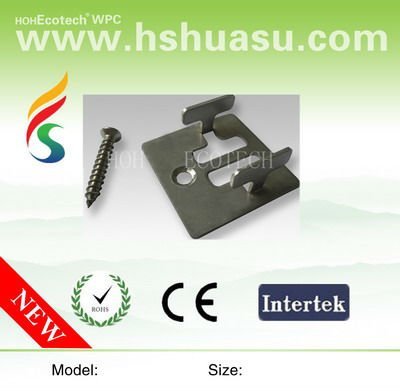 Anchoring
(Expansion screw) are used to fix the joist into ground . It's not necessary for an installation if an wood mounting structure already exist. We recommend diameter of plastic pipe is 6mm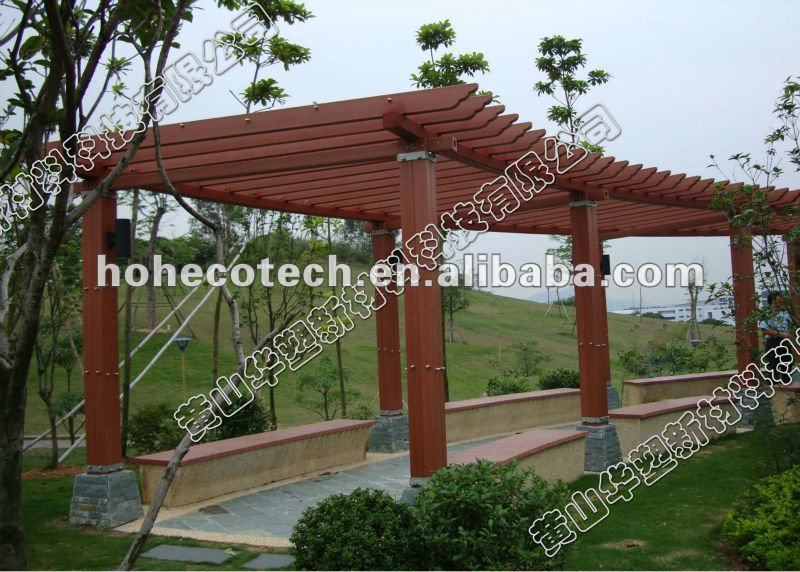 Please send your message to us
*
We will reply your inquiry to this Email as soon as we see it
STAY IN TOUCH
Sign up for our newsletter to stay up-to-date with our promotions,
discounts, sales, and special offers.